GeoNOVA releases LiDAR and Elevation Data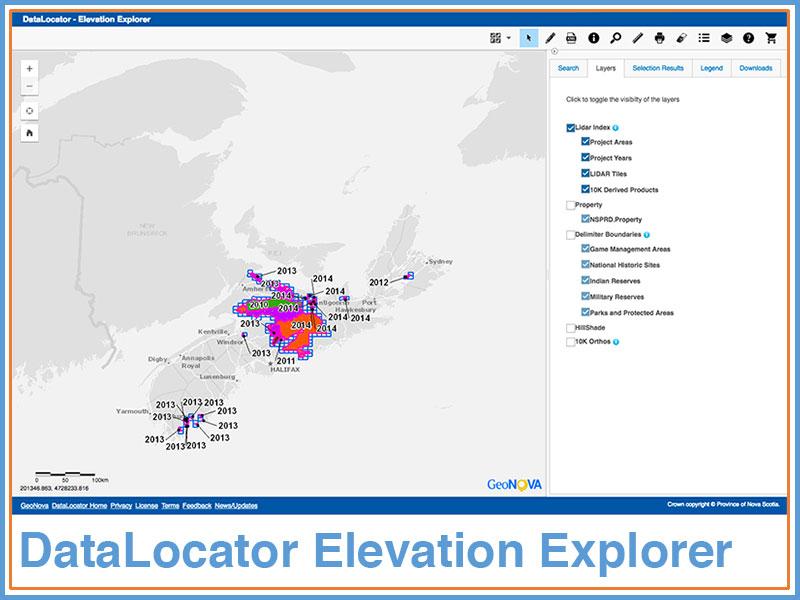 September 11, 2017
GeoNOVA is pleased to release LiDAR and elevation products with the latest version of DataLocator. DataLocator Elevation Explorer is an exciting new release of the popular DataLocator tool that focuses on Nova Scotia elevation products featuring the Nova Scotia LiDAR Point Cloud (raw LiDAR) and the Nova Scotia Elevation Dataset (includes 1m Digital Elevation Model). DataLocator allows users to easily find and download elevation data for free! This data is made available with an unrestricted data licence.
Some of the areas with elevation products being released include:
Cobequid Highlands
Colchester County
Tidnish to Northport
Gulf Shore to Wallace Bay
....with more data coming soon!
Explore DataLocator Elevation Explorer.
Over the past several years the Province of Nova Scotia has made significant investments in elevation data, specifically in Lidar. Elevation information is used by many for a variety of purposes including flood mapping, topographic mapping and forest inventory.
The Province of Nova Scotia has partnered with Natural Resources Canada in the acquisition of elevation data made available through DataLocator. The Nova Scotia Point Cloud and the Nova Scotia Elevation Dataset have been created in support of the National Elevation Strategy.